2nd day of the Season. 10-9-2016 Sunday @8:56am, shot with a Marlin 336BL .30-30 Win topped with a Weaver Classic 1-3x20mm. Federal Premium Trophy Copper 150gr with the Plastic round-point tips to ensure expansion.
After 3 Does but no buck at my first spot on the first day. I was going to go checkout another spot about a mile further in. I had previously cleared away a tons of Oak leaves so that I could get quietly into that spot. I get there... Aw Man! 2 Tents and 2 Horses!?. Oh well. Chatted with them for a quick sec. The suggested I try an area back down a lil bit with a cut that looks up at the hill and has a well established pathway that crosses thru there.
After maybe an hour of dozing off then popping my eyes back open when feeling I had nodded off... I tried doing some soft buck grunts. Usually just one... with lotsa of time in-between, sometimes two boom-boom. Then decided to let that alone. Focused on listening. At some point heard something. This locale has good shade and excellent visibility in almost all directions. I was sittin on a stool near some cut-down oak branches... wearing the 3D leafy camo Hoodie and Pant.
Then I see a Doe walk into view on my right! So with the activity I got anxious about it just in case maybe a Buck might come along too. Heck yeah! Sure enough... lil further back... here he comes. I'm looking at him thru branches and leaves. I can clearly see that he's at least a large forky. Turns out he was probably a 3x3.... but "Righty's" left antler... strangely... was broken-off. Also his remaining antler had a tiny bit of Velvet that he had not completely rubbed-off the furthest back tip. So I figure he must be quit the scrapper and possibly snapped it off in a fight maybe?
When he was in the leaves... I started to raise my .30-30 Lever Action so I could be ready for when he would pass this large oak and be in a clear where she had just previously walked thru. When I initially began to raise my rifle... I could tell he noticed it... so I froze. Since my rifle is camoed up good and I was rockin' the 3D Leafy Camo full suit... and probably because he was trying to follow "her"... he fairly quickly decided to proceed ahead.
When he gets into the clear area... he's maybe 35yds away... Quartering away from me and moving. I think he had re-noticed me trying to re-adjust and raise a knee to give some support to the rifle. I do my best to envision where his lungs are and POW! Did I get him? He didn't go immediately down! I'm sure I made the shot... then I noticed he decides to turn away from the path she had traveled, and when he did... I could see he was not letting his opposite leg touch the ground. But I didn't see blood. Uh-oh.. welp... there's definitely going to be at least a little tracking today.
After making good note of where he turned and entered around a tree and became out of view... I listen and eventually heard what I thought was a crash into oak leaves.
It was really starting to get uncomfortably warm to be wearing the leafy gear over top of everything... (it was like 90F very shortly after the shot) so the first thing I did was to fuss with getting off the leafy. The zipper on the hoodie was being difficult. Eventually I got it down a little ways and said screw-it and just pulled in over my head to get it off... I had some tracking to do! He was really well blended-in with the spot he eventually wound up at. So at first I didn't see him. His route had a few turns that went up towards the nearby chaparall-covered hills. Logic told me the wounded him wouldn't choose that as a first choice. So I opted to look path of least resistance. Figure I'd knock out the obvious stuff... that come back and possibly explore those uphill turns out if I had to. After doing a 40 sq yd perimeter that was bordered on the other side by a gullie... no foot-prints in the gullie... hrmm. Checked again on all the nearby Tree/Bushes. The ones in the "open" area were a nogo. than I checked the edge that bordered that hill. Then I was like... wait... is that him? Yeah... that is him. Wow he blends in really good right there. Figure he ran a total of 30 yds.
As I said it was starting to get crazy hot... so the first thing I did was drag him outta there.... looked around and go Aha... ok... need to drag him into that shade before I begin! Since it was soo hot... I decided to go with actually gutting him this time. I figured that'd help get the meat cooled down. The guthook on the Buck Alpha Crosslock sucked... BIG TIME! So Lame! Ended up just doing that carefully with the Havalon... OH... and OH MY GOD.. So quickly the Meat Bees/Wasps came in. Soo many little flies and a huge number of those Meat Bees! Ugh. I turned on my ThermaCell and placed it as close as I dare to the buck near where I was working. Made the smaller flies kinda go away... but not those pesky Meat Bees.. OMG.... soo many of them. Was giving me the Heebie-jeebies. And later... when they buzzed near the open chest cavity... sounded soo much like when cellphone is on vibrate due to the amplication the cavity caused of the sound!
Tried to put down my Emergency Blanket like before. But pssh... this replacement I bought.. from same company.. was a joke compared to that first one. This one easily tore. So I opted to pull out the emergency poncho to lay him down on. Not bad. Not as large but whatever.. you do what you can, right?
Took me substantially longer this time to finish. Since I had to fuss with the gutting... try to shoo away the meat bees when there in my current work area.. and.. since I had to keep moving the deer due to the shadow retreating due to angle of the sun.
Eventually got all the meat into the Alaskan Game Bag. Head and hide (I cut 'em separate from each other, no sense in trying to make a cape for a one-antlered buck) put into just contractor bags. Good grief it was insanely heavy! I did a very thorough job this time in the deboning. Made sure to get the inner loins I hadn't got the last time due to time-constraints with coyote pack howls getting closer last time.
This meat was soo heavy... I had to opt to pretty much leave most of the other stuff, which was a lot, there... to pick up later with a 2nd trip. Oh man... that meat trip down... in 90 degree stuff.. damn.. so heavy... had to stop multiple times to let out the heat build-up and let my heart calm back down. I made the mistake of pre-emptively opting for two Tylenol #3's... rather than just one (my hip sockets can hurt badly, I think the backpack doesn't fit me right for meat carrying and wants to keep slipping off my hip bones)... well Tylenol #3's have Codeine in them... and Codeine slows down your diaphragm... so I don't think I was breathing appropriately rapidly and deeply enough... especially with the forcing pushing into my shoulder and across my chest and the clamping of the waist belt into the belly certainly limits volume.
Plus... the pullout meat shelf fabric totally wasn't working for holding the Alaskan Game bag material correctly. It just ended up smooshing the meat shelf into the middle and sorta made two butt-cheeks out of itself hanging out the sides. So that helped me make the decision to jettison a bunch of stuff and leave it at my tent... needing to come back a second time to fetch all the left-behind stuff. I ended-up shoving the game bag inside of the back pack and the head+cape was held on by the meat-shelf. A much better choice of placement... but still ungodly heavy!
Oh... almost forgot... the Quartering away shot... entered almost exactly at the mid-point of his body... blasted thru the Liver... decimated the right-hand side lung... exited the far-side ribs, but was stopped by the far-side shoulder blade! I was so jazzed to be able to recover the bullet! I didn't take a still of the bullet. Talked about it in a vid. Couldn't stop at the time with hands all bloodied. The bullet mushroomed perfectly. 100% weight retention I'm sure.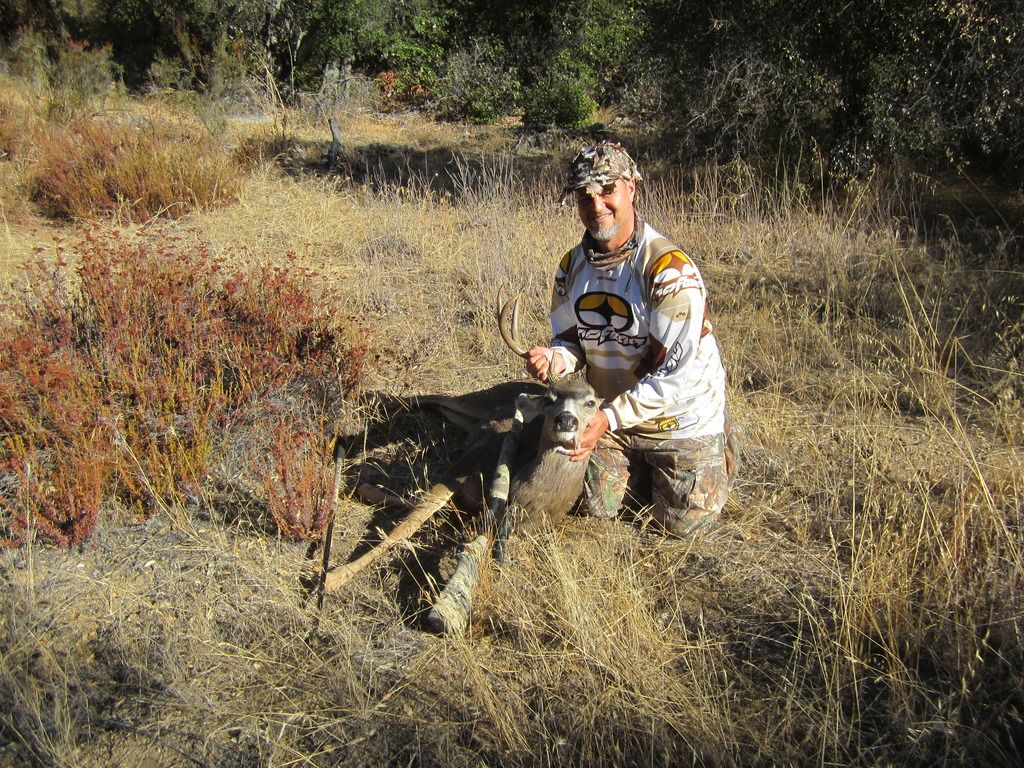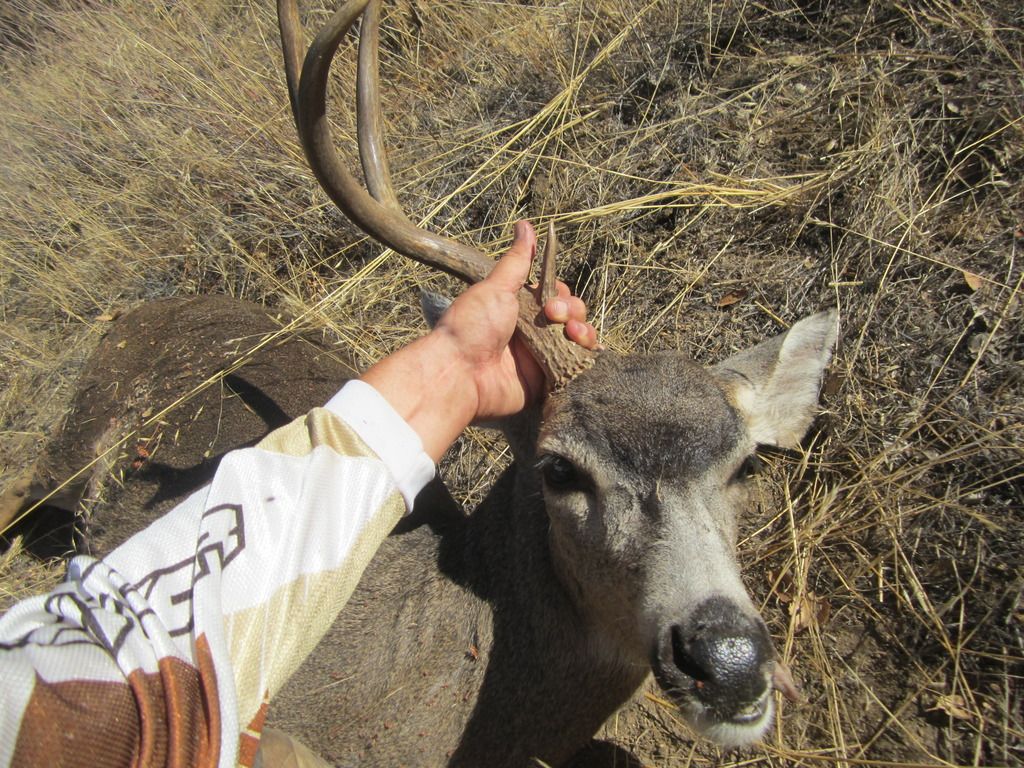 Darn shame he didn't have both sides. I get the impression he's a bit older. Would looked so bad-a$$ to have a nice 3x3. But oh well... I really wanted to make a kill early so that I'd be able to actually enjoy some of the PTO I took off for this week from work!